Asian Journal of Pharmaceutical Research and Health Care
Editor-in-Chief : Dr Akondi Butchi Raju
Online ISSN : 2250-1460
Print ISSN : 2250-1444
Frequency : Quarterly
Published since : 2009
Publisher(s) : Informatics Publishing Limited and Dr.Akondi Butchi Raju
Asian Journal of Pharmaceutical Research and Health Care (AJPRHC) is an open access journal publishing original peer-reviewed research articles. The Journal is a Quarterly Publication.
The Journal is Indexed in U. S. National Library of Medicine, and included in Web of Science Emerging Sources Citation Index, EMBASE.
Asian Journal of pharmaceutical Research and Health Care (AJPRHC) is interdisciplinary and aims to bring together different approaches for a diverse readership all over the world in pharmaceutical sciences. The journal primarily focuses to publish research work and provides a platform to the young researchers in the area of:
Pharmaceutical sciences (Pharmacology, Toxicology, Pharmaceutics)
Medicine
Allied Health
Life sciences Professionals
AJPRHC accepts the following type of research work:
Research Articles
This would contain the original Research results.
Review Articles
Brief summary of previously published articles.
Case Studies
In-depth and detailed examination of a subject, based on single or multiple case studies which includes quantitative evidence.
Short papers
Correspondence
This is a Double -Blind Peer Reviewed Journal. All submitted Manuscripts are first subjected to Plagiarism check using CrossCheck iThenticate. The published articles will be allocated a DOI (Digital object Identifier) Number.
Note: This journal was published as "Journal of Pharmaceutical Research and Health Care"(JPRHC, ISSN-0975-3648) from 2009 to 2011.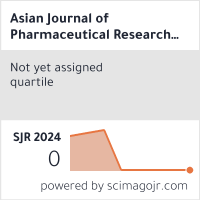 Download a Sample Copy Here
Announcements
Road Show for PharmaTech Expo 2018 Conducted in Collaboration with IPA (Delhi Branch)

DEHRADUN / ROORKEE / HARIDWAR: PharmaTech Expo & LabTech Expo 2018, an international exhibition on pharma machinery, lab, analytical, pharma formulations, nutraceuticals, ayurveda and packaging equipments, is being organized from April 27-29, 2018 at Parade Ground, Chandigarh.
Posted: 2018-03-27
More...